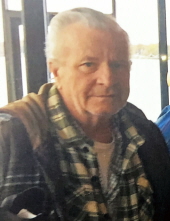 Gary Lee Brohl passed away on Friday, June 15, 2018 at the age of 69 years.

Gary was born October 16, 1948 in Mount Clemens to Louis and Theresa (Freigruber) Brohl. He was one of five sons. Gary served his country with the United States Army and then made a career at Ford Motor Company. He was passionate about farming and loved kicking back for a football game. Gary will be missed by those who knew him.

Gary is survived by his loving brothers Robert (Joann) Brohl, Richard (Margaret) Brohl, Ken Brohl, and Donald (Maryann) Brohl; and ten adored nieces and nephews. He was predeceased by his parents Louis and Theresa. 

Visitation will be held from 3:00 p.m. to 8:00 p.m. on Wednesday June 20, 2018 at Hauss & Modetz Funeral home, 47477 Romeo Plank, Macomb. The funeral mass will take place Thursday June 21, 2018 11:00 a.m. with a 10:30 instate time at St. Mary Mystical Rose Parish, 24040 Armada Ridge, Armada. Burial to follow at West Berlin Cemetery in Allenton. 

In memory of Gary, memorial tributes would be appreciated to Leader Dogs for the Blind.